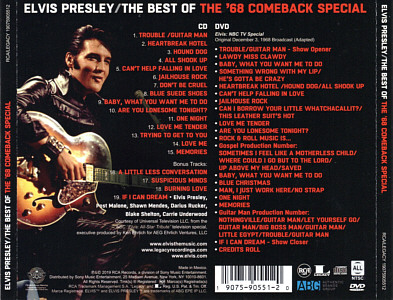 | | | | |
| --- | --- | --- | --- |
| Release: 2019 | Sony Legacy 19075905512 | USA (Walmart) | |
Made by Arvato De Mexico S.A de C.V. (Sonopress), Mexico.
Distributed by Sony Music Entertainment USA.
Special CD / DVD isse for sale in the Walmart Markets
Slim double Jewel Case. Comes with a 8 pages booklet plus an additional DVD with the original NBC TV Special.
Graceland Coupon inside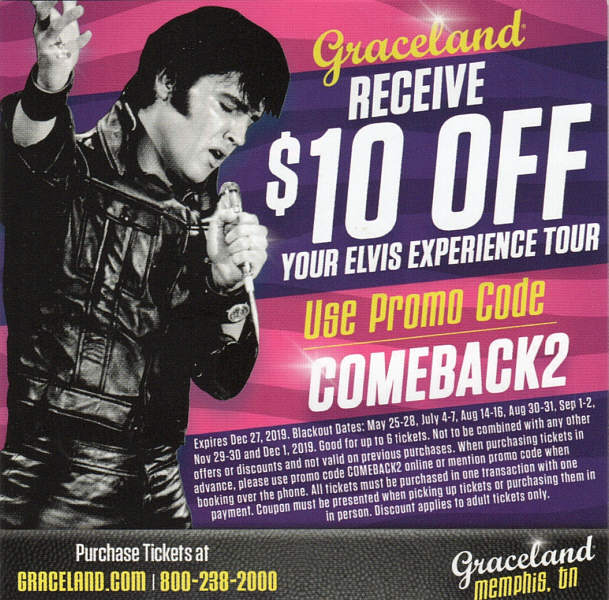 Old RCA, Legacy, ABG and FBI Anti Piracy logos on back.
Made in Mexico is printed on back cover.
Note: The Walmart booklet has an error in print. The last two line of the trademark phrase are missing.

This special release was sold only at the US Walmart markets for 16$ and quickly sold out.
UPC/EAN: 0190759055120

Matrix number: 57150359/19075905502RD1 22 IFPI LB 45 IFPI 078Z
01
02
03
04
05
06
07
08
09
10
11
12
13
14
15


16
17
18
19

Trouble / Guitar Man (Opening)
Heartbreak Hotel (First Stand Up Show)
Hound Dog (Second Stand Up show)
All Shook Up (Second Stand Up show)
Can't Help Falling In Love (Second Stand Up Show)
Jailhouse Rock (Second Stand Up Show)
Don't Be Cruel (First Stand Up Show)
Blue Suede Shoes (Second Sit Down Show)
Baby, What You Want Me To Do (First Stand Up Show)
Are You Lonesome Tonight? (First Sit Down Show)
One Night (Second Sit Down Show)
Love Me Tender (First Stand Up Show)
Trying To Get To You (Second Sit Down Show)
Love Me (Second Sit Down Show)
Memories

Bonus tracks:
A Little Less Conversation
Suspicious Minds
Burning Love
If I Can Dream *


03:27
01:03
00:46
01:37
02:25
02:02
01:41
01:41
03:02
02:50
03:06
03:31
02:58
02:45
03:20


02:01
04:22
02:51
03:10

US-A82-08-00169
US-RC1-18-03914
US-A82-08-00222
US-A82-08-00223
US-A82-08-00197
US-A82-08-00198
US-A82-08-00199
US-RC1-18-03947
US-A82-08-00203
US-A82-08-00186
US-RC1-18-03948
US-RC1-18-03949
US-A82-08-00214
US-RC1-18-03915
US-A82-08-00173


US-RC1-11-00179
US-RC1-69-01355
US-RC1-87-05934
US-RC1-18-03916


* Elvis Presley, Carrie Underwood, Shawn Mendes, Post Malone, Darius Rucker, Blake Shelton