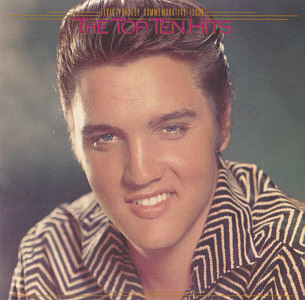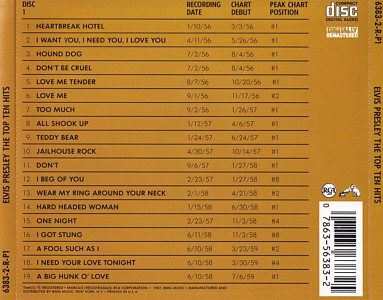 THE DISCS ARE HOUSED IN 2 INDIVIDUAL JEWEL BOXES
| | | | |
| --- | --- | --- | --- |
| Release: 1987 | BMG 6383-2-R-P1 / P2 | USA | 30 € |
Came with a gatefold front insert - inside blank.
Old RCA and Nipper on back insert.
Manufactured and doistributed by BMG Music USA, printed in the USA.
"Made in U.S.A." is written on disc.
6383-2-R-P1 / 6383-2-R-P2 on spines
Two single CD cases in a longbox, probably also sold "out of the box".
UPC/EAN: 0078635638325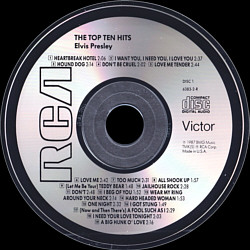 CD 1:
Matrix number: 12/87 2A57 R16383
01
02
03
04
05
06
07
08
09
10
11
12
13
14
15
16
17
18
19
Heartbreak Hotel
I Want You, I Need You, I Love You
Hound Dog
Don't Be Cruel
Love Me Tender
Love Me
Too Much
All Shook Up
(Let Me Be Your) Teddy Bear
Jailhouse Rock
Don't
I Beg Of You
Wear My Ring Around Your Neck
Hard Headed Woman
One Night
I Got Stung
(Now And Then There's) A Fool Such As I
I Need Your Love Tonight
A Big Hunk O' Love
02:06
02:37
02:15
02:02
02:45
02:43
02:31
01:58
01:48
02:28
02:49
01:53
02:13
01:52
02:31
01:48
02:29
02:03
02:09

CD 2: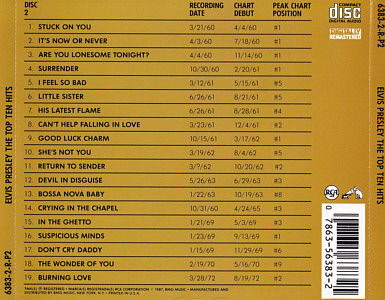 THE DISCS ARE HOUSED IN 2 INDIVIDUAL JEWEL BOXES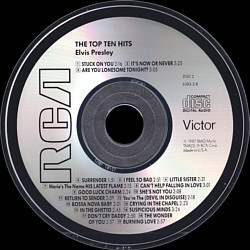 CD 2:
Matrix number: 12/87 1B57 R26383
01
02
03
04
05
06
07
08
09
10
11
12
13
14
15
16
17
18
19
Stuck On You
It's Now Or Never (O Sole Mio)
Are You Lonesome Tonight
Surrender
I Feel So Bad
Little Sister
(Marie's The Name) His Latest Flame
Can't Help Falling In Love
Good Luck Charm
She's Not You
Return To Sender
You're The Devil In Disguise
Bossa Nova Baby
Crying In The Chapel
In The Ghetto
Suspicious Minds
Don't Cry Daddy
The Wonder Of You
Burning Love
02:17
03:14
03:06
01:52
02:50
02:29
02:05
03:00
02:24
02:09
02:09
02:17
02:01
02:23
02:45
03:22
02:50
02:37
02:53