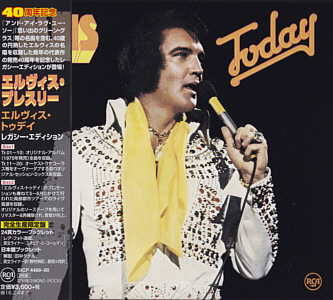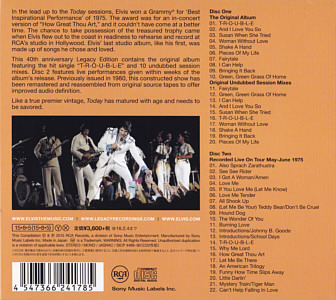 | | | | |
| --- | --- | --- | --- |
| Release: 2015 | Sony Music Labels SICP 4489-90 | Japan | 30 € |
Made by Sony Music Labels, Japan
3 panel fold outdigipak. Includes a 24 pages booklet plus an additional 54 pages booklet with lyrics in English and Japanese.
Sony Music Labels Inc. and old RCA logo on back.
The 40th Anniversary Today (Legacy Edition), the last studio album to be released during the King's lifetime, contains the entire original album (first released on May 7, 1975) while premiering 10 un-dubbed mixes from the sessions, providing a new intimate listening experience. Now, for the first time on an official release, fans can hear Elvis's pure unvarnished performances of these songs (recorded March 10-12, 1975), freed from the controversial "countrypolitan" overdubs on the original 1975 release and compare them to the more polished versions of the finished album.
Today (Legacy Edition) includes a bonus disc of rare and collectible concert performances recorded live during May and June 1975, the period immediately following the original release of the album.

3 panel fold out digpak
| | |
| --- | --- |
| | |
| | fold around flag ¥ 3.600 |

Disc 1:
Matrix number: PLDA-3213 1 IFPI L276 IFPI 455V

01
02
03
04
05
06
07
08
09
10


11
12
13
14
15
16
17
18
19
20

THE ORIGINAL ALBUM
T-R-O-U-B-L-E
And I Love You So
Susan When She Tried
Woman Without Love
Shake A Hand
Pieces Of My Life
Fairytale
I Can Help
Bringin' It Back
Green, Green Grass Of Home


ORIGINAL UNDUBBED SESSION MIXES
Fairytale
Green, Green Grass Of Home
I Can Help
And I Love You So
Susan When She Tried
T-R-O-U-B-L-E
Woman Without Love
Shake A Hand
Bringing It Back
Pieces Of My Life


03:04
03:40
02:18
03:35
03:50
04:04
02:44
04:05
03:03
03:41


02:48
03:37
04:06
03:39
02:43
03:02
03:37
03:25
02:58
03:50


US-RC1-75-01890
US-RC1-99-00427
US-RC1-75-01935
US-RC1-99-00428
US-RC1-75-01936
US-RC1-75-01892
US-RC1-99-00429
US-RC1-75-01934
US-RC1-75-01891
US-RC1-75-01893


US-RC1-15-01142
US-RC1-15-01143
US-RC1-15-01144
US-RC1-15-01145
US-RC1-15-01146
US-RC1-15-01147
US-RC1-15-01148
US-RC1-15-01149
US-RC1-15-01150
US-RC1-15-01151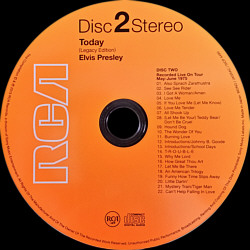 Cisc 2:
Matrix number: PLDA-3214 1 IFPI L275 IFPI 455V

01
02
03
04
05
06
07
08
09
10
11
12
13
14
15
16
17
18
19
20
21
22
RECORDED LIVE ON TOUR MAY - JUNE 1975
Also Sprach Zarathustra (June 10, Memphis)
See See Rider (May 6, Murfreesboro)
I Got A Woman / Amen (May 6, Murfreesboro)
Love Me (June 6, Dallas)
If You Love Me (Let Me Know) (June 6, Dallas)
Love Me Tender (June 6, Dallas)
All Shook Up (June 6, Dallas)
(Let Me Be Your) Teddy Bear/Don't Be Cruel (June 6, Dallas)
Hound Dog (June 6, Dallas)
The Wonder Of You (June 6, Dallas)
Burning Love (June 6, Dallas)
Introductions/Johnny B. Goode (June 6, Dallas)
Introductions/School Days (June 6, Dallas)
T-R-O-U-B-L-E (June 5, Houston)
Why Me Lord (June 9, Jackson)
How Great Thou Art (June 6, Dallas)
Let Me Be There (June 6, Dallas)
An American Trilogy (June 6, Dallas)
Funny How Time Slips Away (June 6, Dallas)
Little Darlin' (June 6, Dallas)
Mystery Train/Tiger Man (June 6, Dallas)
Can't Help Falling In Love (June 6, Dallas)

01:11
03:03
05:28
02:53
02:59
02:25
01:07
01:48
01:59
02:27
02:57
04:03
02:02
03:36
02:50
04:35
03:51
04:30
03:40
02:21
02:32
02:29


US-RC1-75-06994
US-RC1-75-06995
US-RC1-75-06996
US-RC1-75-06997
US-RC1-99-00430 *
US-RC1-75-06999
US-RC1-75-07000
US-RC1-75-07001
US-RC1-75-07002
US-RC1-75-07003
US-RC1-75-07004
US-RC1-15-01152
US-RC1-15-01153
US-RC1-75-07008
US-RC1-75-07009
US-RC1-75-07010
US-RC1-75-07011
US-RC1-75-07012
US-RC1-75-07013
US-RC1-75-07014
US-RC1-75-07015
US-RC1-15-01622
* wrong IRSC, correct is US-RC1-75-06998