G.I. Blues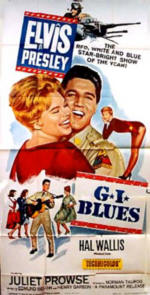 G.I. Blues
Paramount
Running time: 104 minutes
Release date: 10/20/60
Songs
"G.I. Blues," "Tonight Is So Right For Love," "Frankfurt Special," "Wooden Heart," "Pocketful Of Rainbows," "Didya Ever?," "What`s She Really Like?," "Shoppin` Around," "Big Boots," "Doin` The Best I Can," "Blues Suede Shoes"
Credits
Produced by Hal B. Wallis.
Directed by Norman Taurog.
Associate Producer: Paul Nathan.
Written by Edmund Beloin and Henry Garson.
Photographed by Loyal Griggs, A.S.C.
Edited by Warren Low, A.C.E.
Music Scored and Conducted by Joseph L. Lilley.
Musical Numbers Staged by Charles O'Curran.
Art Direction by Hal Pereira and Walter Tyler.
Costumes by Edith Head.
Special Photographic Effects by John P. Fulton, A.S.C.
Process Photography by Farciot Edouart, A.S.C.
Makeup by Wally Westmore.
Vocal Accompaniment by: The Jordanaires.
Second Unit and Assistant Director: D. Michael Moore.
Military Technical Advisor: Captain David S. Parkhurst.
Technical Advisor: Colonel Tom Parker.
Color by Technicolor.

| | |
| --- | --- |
| Cast | |
| Tulsa McCauley | Elvis Presley |
| Rick | James Douglas |
| Cooky | Robert Ivers |
| Lili | Juliet Prowse |
| Tina | Leticia Roman |
| Marla | Sigrid Maier |
| Sgt. McGraw | Arch Johnson |

Synopsis

Tulsa McCauley and his two buddies, Rick and Cookie, have formed a musical combo to fill the off-hours of their Army tour of duty in West Germany, hoping to save enough money to open a small nightclub on their return to civilian life.
When a G.I. is suddenly transferred to Alaska on the eve of a campaign to win a $300 wager for himself and his buddies by spending the night with Lili, a cabaret dancer with a heart of ice, Tulsa is drafted to replace the departed G.I.
In a sincere effort to help his friends, and to win the wager, Tulsa puts so much heart in his wooing that he falls in love with Lili. As Tulsa shows her the sights, Lili realizes that they are being watched by Tulsas buddies to see that he lives up to the terms of the wager.
About this time, Tulsa is drafted into service as a babysitter for the new son of his buddy Rick, who has gone off to get married. Tulsa has problems with the baby and phones Lili, who tells him to bring the child to her apartment.
And so, under very innocent circumstances, Tulsa spends the night at Lilis apartment. His buddies, who have been stationed outside the house, rejoice in the belief that he has lived up to the terms of the wager.
The following day, rehearsals are under way for a giant Armed Forces show. Tulsas sergeant is bragging of Tulsas success, and Lili hears that she was only a military objective, that Tulsa has played with her affections.
When Rick and Marla, the baby's parents tell Lili that Tulsa was really doing them a favor in babysitting for them. Lili realizes her mistake and her love for Tulsa. They plan to marry, after the Army show.
Selection of theme CDs